EA Sports atkal cenšas iekarot tūkstošiem hokeja fanu sirdis ar savu gadskārtējo hokeja spēli - NHL 09. Hokeja faniem nenāksies vilties un apmierināts būs katrs spēles īpašnieks. Bet kas tad var būt tik īpašs parastā hokeja spēlē? Tas, ka šī nav parasta hokeja spēle.
EA Sports mēdz pārsteigt ar jauniem un aizraujošiem spēles režīmiem. FIFA 08 fanu iemīļotais ''Be A Pro'' spēles režīms, nu pārvācas un NHL 09 nometni, un solās būt par vienu no galvenajiem spēles elementiem. ''Be A Pro'' režīms ietver sevī iespēju izveidot savu spēlētāju. Tas būs jāizdara tiklīdz jūs pirmoreiz ieslēgsiet NHL 09. Šajā spēles režīmā, jūsu jaunizveidotais spēlētājs būs jāiekļauj kāda no NHL fārmklubu komandām. Šiem fārmklubiem ir atsevišķa līga (AHL), kas arī kļūs par tavu mājvietu vairāku spēļu garumā. ''Be A Pro'' pamatā ir kļūt par labāko līgas spēlētāju un iekļūt NHL, bet tas var aizņemt ļoti ilgu laiku, jo spēlētāja progress pēc katras spēles ir minimāls. Tavs spēlētājs pēc katras iegūs ''exp'' punktus, ar kuru palīdzību varēsi uzlabot sava spēlētāja prasmes. Tavu sniegumu laukumā vērtēs pēc trīs faktoriem: statistikas (stats), saspēles ar komandu (team play), un tavas spējas laukumā atrasties īstajā vietā un īstajā laikā (posession). Katra kļūme vai pluss var ietekmēt tavu atzīmi. Jo labāk spēsi sadarboties ar savu komandu, jo labākā maiņā spēlēsi.
Vēlviens jaunievedums ir ''EA Sports Hockey league''. Tas ir kaut kas līdzīgs ''Be A Pro'' , taču šeit tu vari izveidot pats savu komandu - izvēlēties nosaukumu, formastērpu un kļūt par tās kapteini. Varēsi uzaicināt uz savu komandu citus spēlētājus, kas nav CPU vadīti, bet gan dzīvi cilvēki. Savu komandu, pēcāk, varēsiet pārstāvēt tīklā, spēlējot 6 pret 6, ar iespējām vadīt jebkuras pozīcijas laukuma spēlētāju (arī vārtsargu). Tava komanda tiks iemesta kādā no pārdesmit divīzijām. Tavs un tavas komandas sniegums tiks vērtēts tā pat, kā tas tiek vērtēts ''Be A Pro'' režīmā. Tu savu spēlētāju varēsi pielāgot savam spēles stilam, izvēloties nūju, ķiveri, cimdus, slidas un citas ekipējuma sastāvdaļas. Nūjas izvēle ir ļoti svarīga. Viena no nūjām dos tev papildu sitiena spēku, bet cita, precizitāti. Tāpat var variēt arī ar cimdiem un slidām. Ar savu labo sniegumu, tu vari piesaistīt labāku komandu kapteiņu uzmanību, kas var tevi uzaicināt spēlēt savā komandā. Varu nešaubīgi apliecināt, ka šis režīms kļūs tikai populārāks un iespējams tiks iekļauts ari citās EA Sports spēlēs.
Šogad NHL ir pilns ar dažādām komandām. Šajā spēlē ir pārstāvētas Krievijas superlīgas, Vācijas līgas (DEL) un citu līgu hokeja komandas. Latvijas izlase arī ir iekļautas spēlē, taču kārtējo reizi spēlētāji, kuri to pārstāv reālajā dzīvē ir uz vienas rokas pirkstiem saskaitāmi. Arī šogad, diemžēl, neiztikt bez Gavriloviem, Rozīšiem, Masuļiem un citiem iztēles augļiem.
EA Sports iekš NHL 09 ir iekļāvuši dažus revolucionārus ''geimpleja'' elementus. Ar labo analogu ''kociņu'' ir iespēja kustināt nūju 360 grādu leņķī. Spēka paņēmieni ir kļuvuši daudz reālistiskāki un ir ieviesta tā saucamā ''stick lift'' sistēma, kas ļauj ar savu nūju, pacelt pretinieka nūju, tādā veidā novēršot bīstamus vārtu gūšanas momentus. Pārmērīgi to lietojot, var ātri vien nopelnīt noraidījumu. ''Skill stick'' un ķeksēšanas spēja ir saglabāta. Tiem, kuriem neiet pie sirds jaunās kontroles, varēs spēlēt ar vienkāršajām ''piespēle, metiens'' kontrolēm. Skaņas celiņs arī ir ļoti labs, un šīs mūzikas cienītājiem tas noteikti patiks.
Grafika šajā spēlē izskatās tiešām lieliski. Arēnas, spēlētāji un arī skatītāji izskatās detalizētāk, kā jebkad. Apbēdina biežais ''frame rate'' kritums, taču tas parādās tikai animāciju laikā, kuras arī izskatās lieliski. Jaunie spēles režīmi un revolucionārais ''geimplejs'' padara šo spēli unikālu. NHL 09 ir savu 40ls vērta un tā jums sniegs baudu līdz pat nākamajai NHL spēlei. Es iesaku šo spēli iegādāties katram sporta fanam, jo tā jums noteikti neliks vilties.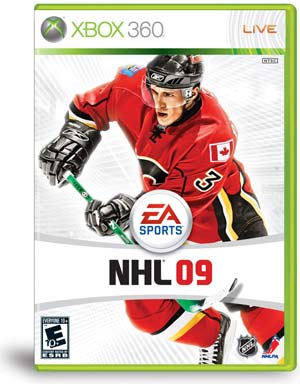 Acīm: 9 (grafika)
Ausīm: 9 (soundtracks un efekti - lieliski)
Īkšķiem: 10 (gameplay)
Plauktam: 7 (vērtība)
Vispār: 8,75(jāņem)