Beidzot Call of Duty sērijas spēle uzdrošinājās iet tālāk, nekā Otrais Pasaules karš. Tas notika pateicoties Infinity Ward un Activision drosmei, kas vēl joprojām tiek pamatīgi atlīdzināta ar čupām online spēlētāju visos iespējamos daudzspēlētāju režīma priekšnamos, spēles pirktajām kopijām un ar smaidu, kas pārņem jebkuru izdevēju, kad viņa spēle iegūst Platinium Hits statusu un pamatotas tiesības tikt laista tautās ar uzrakstu Game of the Year Edition uz kastītes.
(CoD4:MW) darbība notiek netālā nākotnē, kur amerikāņu kaujinieki, sadarbībā ar britu elitārajām vienībām, piepalīdzot krievu lojālistiem, te kopā, te pārmaiņus karo pret krievu ultranacionālistiem un tuvo austrumu nemierniekiem. Situācija pasaulē nav no tām patīkamajākām – ultranacionālistu līderis Imrans Zakhajevs ir cieši nolēmis Krievijā atgriest vecos labos Padomju laikus, kad videomaģis mājās bija ekstra un šņabi dalīja uz taloniem. Visa pamatā lieta saistās ap kodolieročiem, kur pārīti paķerot savā īpašumā, vecā labā kārtība valstī varētu tikt atgriezta. Viņa sabiedrotais Kaleds Al-Asads tajā pat laikā citā pasaules malā, tiešraidē nogalina valsts prezidentu Jasiru Al-Fulani, tas, protams, ar nodomu, lai novērstu uzmanību no kodolieroču bāzes ieņemšanas, ko izveic Imrans Zakhajevs. Tas īsumā par spēles vienspēlētāja režīma stāsta īpatnībām, jo labākais vēl tikai sekos.
Sasniegums liels, jo karadarbība tiek veikta ar mūsdienu ieročiem un militārajiem transporta līdzekļiem, pie kuru stacionārajiem šaujamajiem dažreiz nāksies sēsties pašam. Nevar nepieminēt savējo atkāpšanās ceļa izbrīvēšnu no gaisa, kad tu, ar dažāda kalibra bliezējiem apšaudi ienaidnieku no . Šļaksta pilnīgi visi, jo kaut kas tāds nebija redzēts. Misijas izkārtotas tā, ka tikai reizēm "veteran" grūtības pakāpē nolaižas rokas un vadības pults ielido stūrī. Garlaicīgi nebūs, jo nāksies uzbrukt, atkāpties, pārņemt kontroli un gaisa uzbrukumu pavadībā meklēt patvērumu pie savējiem azotē. Ieroču klāsts ir apjomīgs un īstiem armijas faniem būs, kur izvērsties, jo tikai retajam Ādažu poligonā gadīsies izšaut ar , virtuāli CoD4:MW to tev nāksies izdarīt. Vienspēlētāja režīms ir pietiekami īss un aizraujošs, lai katrs to izspēlētu vismaz vienreiz. Pēdējā papildus misija veteran grūtības pakāpē un atvērts tikai īsteniem un principiāliem "kodotājiem".
Notikumi virtuālājā pasaulē ar kodolieroču piedalīšanos ir tikai pumpuri, īstie ziediņi parādās pēc spēlētāja apzinātās izvēlēs izdarīšanas, kas ir daudzspēlētāju režīms. Tas CoD4:MW no disku dziņiem ļaus izņemt 29. aprīlī, kad pastkastītē iebirs . Daudzspēlētāju režīms ir vienspēlētāja režīma ieroču izvēles skapītis pēc saviem ieskatiem, kurus vari pielāgot savām vēlmēm pēc ieskatiem un vajadzības. Modificētās versijās pieejamas arī spēles labākās misiju kartes, kur vākt punktus un vest savu komandu pretim uzvarai, lai beigās dzirdētu PSRS himnu vai to, kas nu tiem otriem tur bija.
Virtuālā krāna pagarināšanai pieejamas desmit prestiža ikonas, kas sasniedzot konkrētu punktu skaitu nomainās uz nākamo, tāpēc jau spēles priekšanmā varēsi saprast ar ko būs darīšana un padižoties ar savu medaljonu. Savas spējas varēsi pierādīt parastā Team Deathmatch režīmā, varēsi cīnīties par karogu ieņemšanu, stiept spridzekli un vajadzīgo vietu, lai nodarītu pēc iespējas lielāku skādi pretiniekam. Ja kaut kas nepatīk, izvēlies kādu no "hardcore" spēles režīmiem un izbaudi kara nāvējošo dvesmu bez ložu uzskaites sistēmas, savējo atpazīšanas u.tml. sīkumiem. Lai vai kā miera nebūs, kamēr desmitā prestiža ikona nebūs tavā īpašumā un zelta ieroči lepni negozēsies pie jostas. Viens ir skaidrs – ne jau katra spēle var panākt to, ka revolution.lv "kodotāji" (clan tag [r.lv]) dodas satikt britu "kodotājus" un ieņemt kādu mēriņu par to, ka CoD4:MW dara tādus brīnumus. Pierādījumam, .
Grafiski spēlei īpaši nav kur piekasīties, bilde ir smuka, gadās pa kādam gličam, kad var izmantot iespēju ielīst kastē, kurā nevajadzētu ielīst, bet tās ir tikai nianses, kuras spēles veidotāji cenšas izlabot ar katru nākamo paču. Spēlē nedzirdēsi Halo simfonisko orķestri, taču skaņas efekti un krievu valoda, kas nereti ir dzirdama spēlē, jau ir iegājusies "kodotāju" leksikā un nereti nākas dzirdēt spēlētāju mēģinājumus atdarināt spēles krievisko valodu. "Тим детмач! Бросаю стан гранату!" Call of Duty 4: Modern Warfare patiešām ir moderna.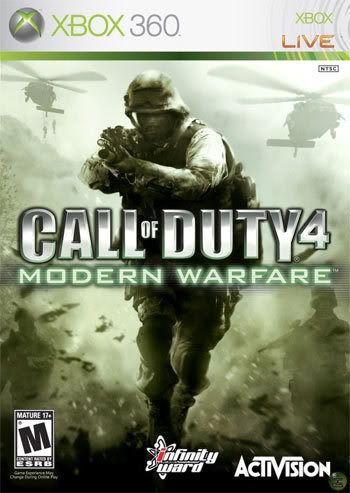 Acīm: 9 (grafika)
Ausīm: 9 (skaņa)
Īkšķiem: 10 (gameplay)
Plauktam: 10 (vērtība)
Vispār: 9.5 (!instaget)
---------------------------------
Call of Duty4 Modern Warfare
Call of Duty4 Modern Warfare