Bija pavisam skaidrs, ka Xbox 360 ekskluzivitāte šai spēlei spīd labākajā gadījumā uz laiku. Un tad vēl nejauši, intervijas ar Capcom laikā, spēlei blakus stāvēja PS3 "devkit" iekārta. Neveikli. Vēl pus gadu vēlāk Lost Planet: Extreme Condition beidzot ir pieejams neizlutinātajiem PS3 īpašniekiem. Apģērbjam ko siltāku (kažoks, dūraiņi, vilnas zeķes un oderēta tankista cepure). Saņemam dūraiņos SIXAXIS un... gaidam kamēr spēle instalējas. Paliek karsti un muļķīgi, noģērbjam kažoku un dūraiņus. Piezīme Capcom - būtu teicami, ja es varētu izvēlēties vai vēlos instalāciju spēles sākumā vai tomēr pacietīšu līmeņu lādēšanos spēles laikā. Tiklīdz instalācija ir cauri - varam sākt spēlēt un turpmāk spēlei lādēšanās starp jebko iztrūkst kā NES kārtridžiem. Drīz vien šis patīkamais sīkums atsver visas 10-15min, kas pavadītas skatoties uz progresa procentiem, svīstot kažokā.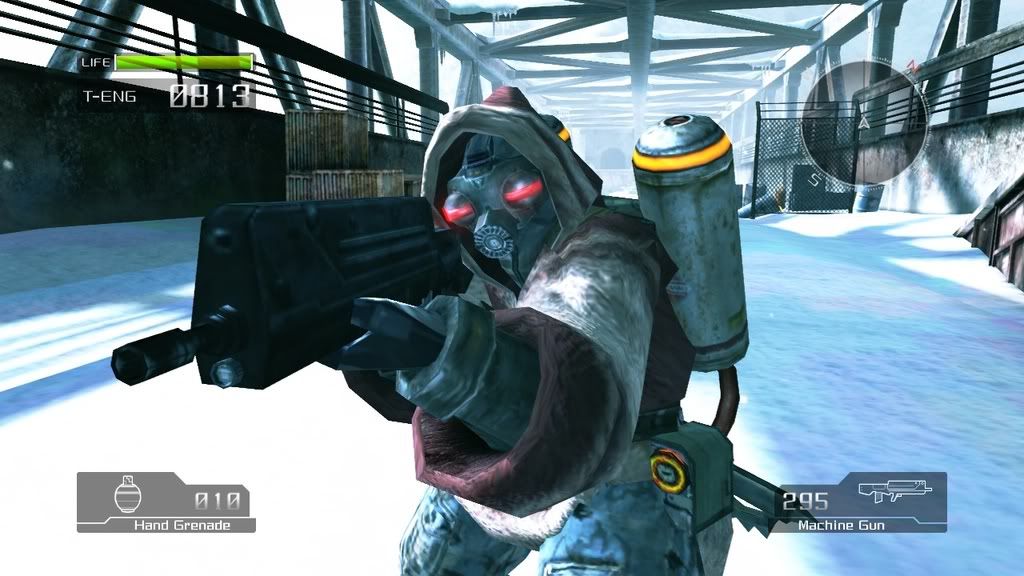 Kažokā tādēļ, ka Lost Planet pasaulē ir auksti. Ļoti auksti. Mīnus daudz. Universāla vērtība līdz ar to ir siltums - tas uztur pie dzīvības galveno varoni un pamazām izsīkst, gan kustoties, gan stāvot uz vietas. Siltums mērāms punktos. Punktu rezerves papildināmas, savācot siltumu no beigtiem ienaidniekiem, informācijas kioskiem vai dažiem priekšmetiem. Sasalis līķis arī ir priekšmets. Iešaujot tam, mēs ne tikai izrādam necieņu, bet arī savācam siltuma enerģijas peļķīti. Arī galvenais varonis - aziātiskas ārienes brašulis Veids ir atkarīgs no siltuma. Rokā iebūvēta (Capcom ir "šī lieta" ar enerģizētām varoņu labajām rokām) īpaša vielmaiņas iekārta, kas siltumu no termosa pārvērš nemirstībā, ļauj Veidam kalpot pat kustīgu mērķi ilgi jo ilgi. Ja vien termosā ir iekrāts pietiekams daudzums siltuma enerģijas punktu, varonis ātri vien atkopsies. Lai retāk nāktos atkopties, jāizmanto kāds no spēles ieočiem - tālā nākotnē efektīvākie joprojām ir automāts, snaiperbise un pārnēsājama raķešu iekārta. Vēl ir pieejamas šo ieroču superizmēra versijas - tik pat lielas kā pats Veids. Var nēsāt apkārt, izskatoties smieklīgam un nevarot paskriet, vai arī var iekāpt neliela divkājaina robota kabīnē un ļaut tam nēsāt lielo bisi varoņa vietā. Ar paščieņu. Bipedālie roboti spēj gan ātrāk paskriet, gan augstāk palēkties par galveno varoni, tādēļ tos vēlams izmantot kad vien kāds ir pa rokai nomests un tik ilgi kamēr uzsprāgst. Lielu attālumu mērošanai, lielu pretinieku skaitu apšaušanai, citu divkāju robotu uzveikšanai, bosu cīņām - patiesi noderīga ierīce!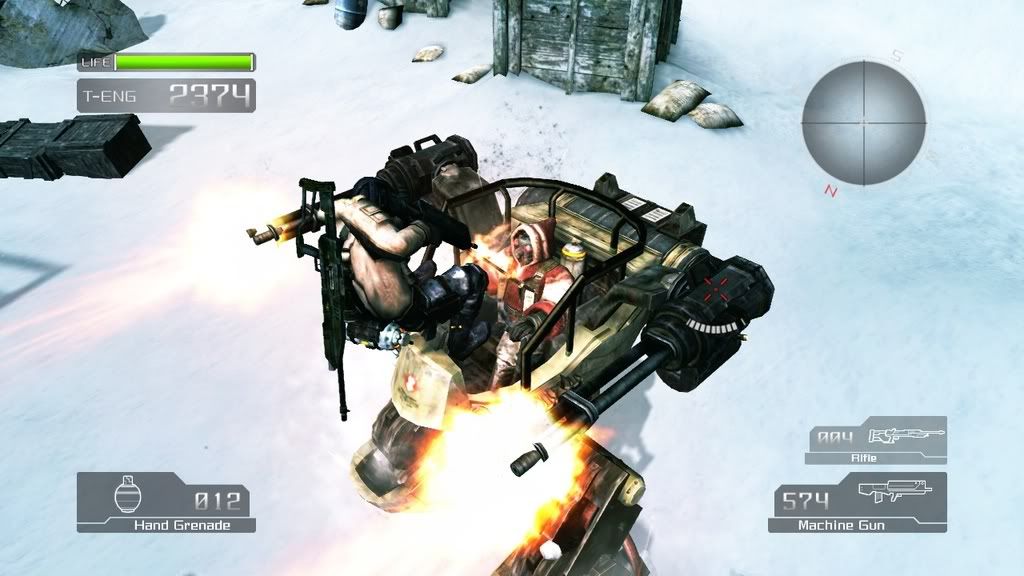 Lost Planet: Extreme Condition ir grūti mīlēt kādam, kurš dod priekšroku rietumu izstrādātāju projektiem. Kameras lenķi ir Anime tradīcijās, personāši runā un uzvedas ar zināmu pārspīlētību emocijās un sižets ietver galvenā varoņa amnēziju un mirušā tēva rādīšanos sapņos. Citiem vādriem, aizraujošs. Stāstījums dalīts variēta garuma missijās ar sinemātiskiem starpuzvedumiem, kas palīdz atklāt planētas vēsturi, un lielo bildi, kurā protams visi iesaistītie kaujinieki ir tikai marionetes kādas lielas korporācijas projektā. Oriģinalitāte dzīvo blauks kāpņutelpas 3. stāvā, šeit dzīvo Sidorovu ģimene ar 2 pamuļķiem bērniem, bez iemesla rejošu suni, pie sienas pienaglotu tepiķi un stiklotu trauku sekciju "Vera". Un nav jau svarīgi - jo sižets ir pietiekami aizraujošs, lai būtu vēlme noskaidrot kas notiks tālāk un kā tas viss beigsies. Personāši ir pietiekami pārdomāti, lai justu tiem līdzi un vispārējā atmosfēra vienkārši iedvesmo nosacīti likumīgā veidā iegūt slimības lapu uz pāris dienām.
Patīk man īsta ziema. Balts sniedziņš, karsts kakao Statoil kartona krūzītē pa ceļam uz kalnu. Glīti. Ziema Capcom izpratnē gan vairāk līdzinās Tatuīnam no Zvaigžņu Kariem. Sniegoti tuksneši, kupenās apraktas pazemes bāzes un dziļas alas. Reiz, sen senos, šī planēta bija kolonizēta. Smaidīgi vīrieši un sievietes ražoja neilona zeķubikses, raka ogles un jutās kā kosmosa atklājēji. Tad uzradās ļaunie, kukaiņveidīgie radījumi (jo visās jaunatklātās kolonijās citplanētieši ir kukaiņveidīgi) un smaidīgie kolonisti ņēma vagu. Ne visi gan. Tikai priviliģētākie, jo "glābšanās laivās" allaž šmuļiem vietas pietrūkst. Vīlušies un vairs ne tik smaidīgi, sasalušās kolonijas iedzīvotāji saslēpās alās, kur dzīvo vēl šobaltdien. Tos tagad dēvē par sniega pirātiem un šauj bez minstināšanās. Spēles dzinis lieliski atspoguļo šo sniega un ledus klāto pasauli, jāņtārpiņveidīgos briesmoņus, pirātus un bipedālos robotus. Lost Planet nav gluži skaistākais, ko nācies redzēt uz PlayStation 3, taču viennozīmīgi lielisks sniegums no Capcom puses. Šādu grafiku var piekārt viesistabā pie sienas, blakus klusajai dabai ar badmintona raķeti un piknika platmali, nevis garāžā, aiz riepām un rezerves ātrumkārbas automobilim Volga 21, blakus kalendāram "Voroņežas skaistules '94".
Kas to būtu domājis, ka vārtīties pa kupenām un šaut pa pāraugušiem kukaiņiem var būt tik aizraujoši. Ja vēl fona stāstu raksta japāņi un animētās sīklugas režisē kāds ar Anime pieredzi. Klāt pie tam Lost Planet ļauj pa brīdim iekāpt divkājainā robotā un paņemt rokā 2 metrus garu raķešbisi. Jā, es esmu objektīvs, arī Zone Of Enders man patika, jo tur bija roboti. Un raķešbise! Lielās steigas un pilnīga intereses trūkuma pret daudzspēlētāju režīmiem kā tādiem dēļ, visu savu uzmanību veltīju "single player". Uzteicams, un nav jau nemaz tik daudz uz PS3 ko spēlēt - varat pārstāt izlikties, ka šaubāties un droši doties uz veikalu pakaļ LP.
Acīm: 8 (attēls)
Ausīm: 7 (skaņa)
Īkšķiem: 7 (visai neslikti)
Plauktam: 8 (vērtība)
Kopā: 7.9 (gandrīz astoņi)