Spēles nosaukums:
Borderlands
Izstrādātājs:
Gearbox Software
Izdevējs:
2K Games
Platformas:
X360, PS3, PC
Žanrs:
RPG shooter
Oficiālā mājas lapa:
http://www.borderlandsthegame.com
Ačīvmentu saraksts:
šeit
Izdošanas datums Eiropā:
23.10.09.
Demo:
---
revolution.lv apskats:
---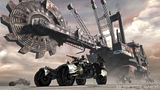 Šis viens
pārcelts un iznāks kaut kad starpā starp 2008. gada novembri un 2009. gada oktobri. (X360, PS3)
Borderlands is a sci-fi shooter that features four player online co-op.
Borderlands is set in the distant future on a planet called Pandora. Rumors of rich natural resource deposits lured thousands of colonists to the desolate planet but they were disappointed. Those too poor to leave struggle to survive on the alien world with no rule of law.
There is a legend on Pandora, of a great Alien Vault, full of powerful otherworld technology. When the Atlas Corporation discovered tiny shards of material from this alien tech, they became the most powerful corporation on the planet. The vault is rumored to contain pristine artifacts, which Atlas wants for itself.
Players take on the role of a vault hunter, searching for the legendary cache.
Support by