Spēles nosaukums:
NBA Live 10
Izstrādātājs:
EA Canada
Izdevējs:
EA Sports
Platformas:
X360, PS3, PSP, mobile
Žanrs:
Sports (basketbols)
Oficiālā mājas lapa:
http://nba-live.easports.com
Ačīvmentu saraksts:
šeit
Izdošanas datums Eiropā:
09.10.09.
Demo:
NBA 10 demo ir pieejams
.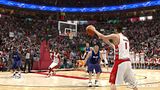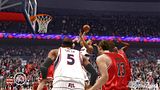 Kārtējais izgājiens basketbola laukumā. Varēs atkal pa laukumu dricelēt ar Biedriņu un rādīt, kurš te ir pelnījis čempiona nosaukumu un kurš īsti nevisai.
In NBA Live 10, audiences are given a bigger role to create more lifelike atmospheres, while teams are given their individual playing style with faster running animations that take into account player size. Passing and shooting has also been improved by adding new controls and features. A new training facility called "The Hangar" will be included as well. There have been many improvements to the details of the players including their tattoos, hair, shoes, uniforms, signature shots, and moves. It has also been revealed that Dynamic DNA, introduced in NBA Live 09, has been improved.
Skaņu celiņš hiphopa cienītājiem (?)
* 88 Keys feat. Colin Munroe - Wake Up Call
* Afrika Bambaataa feat. Why G, Mickey Factz & Fort Knox Five - Zulu! (We Don't Stop Yawl)
* B.o.B. - Champion
* Beastie Boys - Pop Your Balloon
* David Banner & GQ - S.P.I.T.
* De La Soul - La La La
* Dead Prez - Still Bigga Than
* Embassy Music Board - Overtime
* Grand Puba - Get It
* Laza - Crank It Up
* Matt & Kim feat. De La Soul - Daylight (Troublemaker Remix)
* Matt & Kim - Daylight
* Mick Boogie feat. Kidz In The Hall, Donnis & Daytona - Class Of Our Own
* Mickey Factz & B.o.B. - Mind Got Blown
* Mos Def feat. Talib Kweli - History
* Murs feat. Kurupt & Jay Rock - We Ballin'
* Pete Rock - When I Need It
* Reflection Internal - Get Lite
* Rye Rye feat. Busy Signal - Get Like This
* Snoop Dogg - Lodi Dodi (LIVE 10)
* Wale feat. Jazmine Sullivan - World Tour
* Wyclef Jean feat. Haitian Fresh - Ballin'
* Xzibit feat. BJ The Chicago Kid & Poo Bear - Fanatic
* Young Dre The Truth & 2Pac feat. BJ The Chicago Kid - All Eyez On Me (The Truth)
* Zion I - Go Hard
Support by